Desktop call controls appear when making or receiving a call. These controls allow you to see who is calling and manage a current call.
Incoming Calls
Incoming calls appear in a window in the portal similar to the one in Figure 2‑2. This window shows the caller ID name and number, along with Reject and Answer buttons.
Selecting Reject sends the call to voicemail if available. The Answer button may not be available, depending upon your handset model.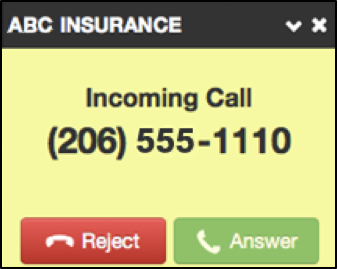 Active Calls
Figure 2‑3 shows an active call window that displays the caller ID and call time. The three controls at the bottom of the window let you hold, hang up, or transfer the call. If you select transfer, a field appears for entering the extension of the recipient. If you prefix the recipient's extension number with 99, the call goes straight to voicemail.